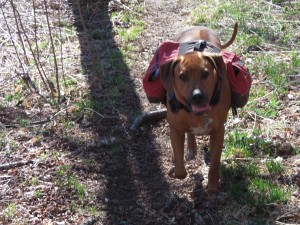 Dog n Me made the drive up to the Siamese Ponds Wilderness Area in the Adirondack Park, located between several towns in Hamilton County, New York. The Park was created in 1892 and is approximately 175 square miles in size.
It is mind blowing to imagine, but the Park is bigger than Yellowstone, The Grand Canyon, Great Smokies, Glasier and Yosemite, combined.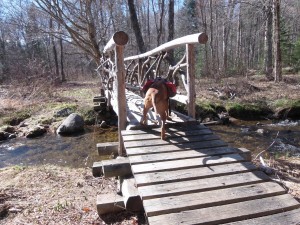 With our backpacks in place, (we agreed that we would be responsible for our own meals) and after signing in on the visitor board, we set off on our 6-mile hike. We needed to get to the lean-to campsite before dark. We had about 3-4 hours of sunlight remaining to get to site. It was surprisingly warm for early May.
Hiking early in the season offers wonderful opportunities to enjoy the outdoors. Climbing over down trees, looking for missing trail markers, looking for fresh boot tracks, navigating around beaver ponds, forging flooded streams, and recognizing bear tracks.
Let me just say the scenery was breathtaking. It was as though we were some of the first pioneers to visit this place. Just as amazing was the next morning's sunrise burning brilliantly through the fog.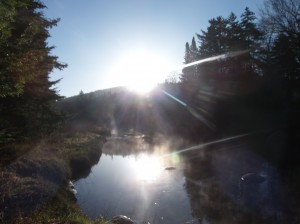 On the drive back home, with Q's deep breathing as the backdrop, I found myself smiling as I reflected on the trip that I almost decided not to make. I thought about the surprise on the campers'faces seeing Dog n me coming into the camp right before dark, and exchanging stories over the dinner of freshly caught brook trout caught.
Welcome to outdoorCLIQUE,
Where "you have to get out to get in"
*************************************************************************************************************